I bet there is not one of you who doesn't like to eat…and some of you are great cooks I'm sure. I personally love to cook. It's my favorite reprieve from real life. I can spend hours in my kitchen baking, cooking, and putting a bit of love into all my dishes. So, I thought I'd start this topic so you all could share with me some of your favorite foods to make, and I'll share some of mine with you!
Southern Pecan Pie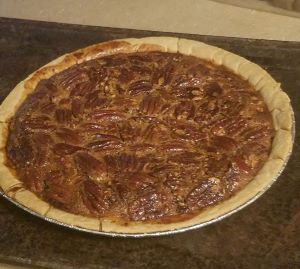 1 cup granulated sugar
3 eggs
1/2 cup white corn syrup
1/2 cup evaporated milk
1 tablespoon vanilla
1 1/4 cup pecan halves
In mixer bowl, slightly beat eggs and sugar, corn syrup, evaporated milk and vanilla. Blend well. Add pecans and pour into unbaked 9" pie shell. Bake in 400 degree Farenheit oven for 10 minutes. Reduce heat to 350 degree Farenheit and bake an additional 30 to 40 minutes or until filling is puffed in center and is well browned. Cool before cutting.