There are some eras worth bringing from old forums to here. So just bringing this here .
Summary Video

G3 - Era 78 - Event (unlimited team size)
Known as the era @carter put a stick on PLO's ass. Then PLO removed it from his ass and made Carter feel the same stick into his ass.
Whose summary videos are those?
You forgot to include factions
I never played factions and there so many forum topics related to that event, so someone need to add the right one
This thread was created after the mass kickout had happened.
This is another video created by claw for faction era.
And finally this is the era discussion thread, unfortunately this thread is not very 'hot'.
CE2 Discussion thread
https://www.battledawn.com/forum/viewtopic.php?f=414&t=29880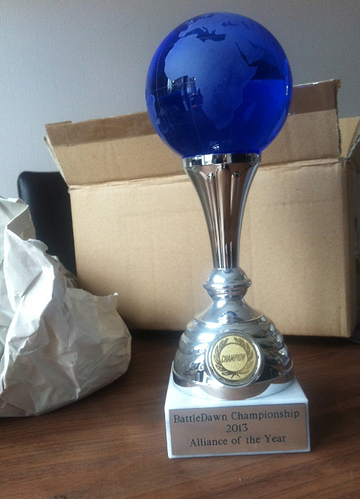 couldnt find 2014s trophy pic
Pretty heavy trophy. That globe is a some type of faux marble type material.
Summary of the first 15 pages of that thread. Warning: Somewhat Cringe.
I do remember Ilona telling on forum that she was looked upon with suspicion when she went to local post office, then I told how drugs were smuggled in the hallow space which is present when you invert the trophies and in the end you got mad at me and made me edit my post.

Shhh…you aren't supposed to reveal that the real prize of winning the CE's were half a kilo of white powder. Something to allow you to enjoy life again after playing through the months
Did we ever get the topless pic with the trophy??
That thing was in my mind while I was answering my question, I was just not sure if I should still put it in words.
When CE3 is officially announced (with date), I'll post one with both trophies.
You're forgetting the shirtless part m8