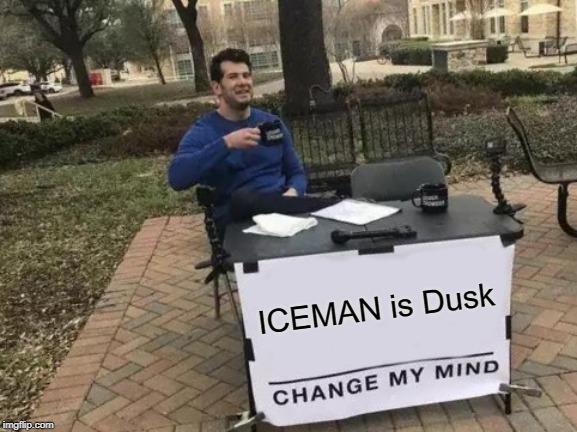 We all know Dusk is Milan.
Naahh, not even a good theory. I need some juice. Put some story behind that.
what's the story behind your theory?

have you ever seen them together!?
Have u ever seen me and donald trumph together at same time…keep imagining …
there is more to come you just wait, It is true, all of it
Yes, they've played several eras together.
ALTERNATE ACCOUNTS! THEY pay OF ADMINS TO NOT BAN!!!
That doesnt mean much. Milan played a world with 5 other Milans… it's possible that he and Dusk are the same person as well
Unless this is about ICEMAN and Dusk. In which case i got the post order wrong
you mean to say, ICEMAN is EVERYONE!
If he could pull off Icegirl he can pull off Dusk.
Wasn't icess or icegirl, James the man's girlfriend??
I have played with Iceman and dusk in one era together e1
So the iceman cometh is a play by Eugene O'Neill, the essential crux of the play is these drunks dreaming in a bar, and after the play happens most of them go back to dreaming in a bar, making plans and pipe dreams. This represents iceman/dusks early period, where he was constrained to one team and didn't have the impetus to move around and thrive, instead he sat in teams dreaming of joining all the others. Long days journey into night is another play by O'Neill, while this play again deals with drunkenness, hopelessness etc, this time its very self aware, and quite brutally honest. This is an expression of iceman coming to terms with how trapped he is, and instead of changing, embracing it and creating a new identity, dusk, which is the time at which long days journey into night ends. Dusk is a freedom he never had, he can travel to any team he likes, and leave as many as he likes.
ICEMAN is the name, cold-hearted, sad, depressed. Dusk is a new beginning to a, once old age.
1 thing here, dusk went as dawn for a bit right on his beginning
Interesting facts , we can also notice Dawn and Iceman have A and N common in it. Does it have something to do with An alliance on E3??