Does Battledawn Academy still exist? If so how does a new or returning player join this group?
How disheartening. No place for these players anymore? If it had not been for AANC I would not be here.
It might not be as active as a group however many of the individual mentors of that group may still help you out.
Yes, I messaged Energy to help out, but just wanted to see if the group was around. New players don't know how to start.
Yes it does exist. Don't give people the wrong idea.
Almost all mentors are very good players and most of them have gone into their vacation modes. Many come back and do their BDA eras. The thing is the we are not very big.
But we still do come back frequently.
M1 Era 74 was just last month.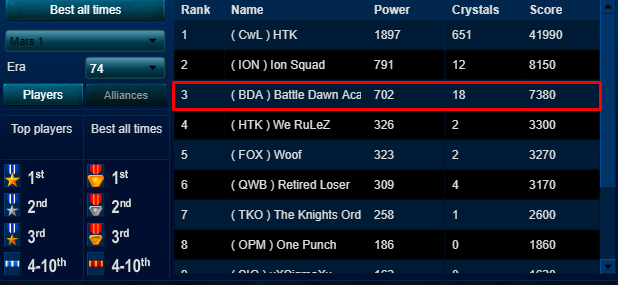 This is our discord: https://discordapp.com/invite/eqCvDU9
Do not expect us to be online 24/7.
Anyone is free to tag any mentor and we have people like Simmen Josh Elcent who are admins active on the server along with some very good players who respond in minutes if you @ mentors in #questions.
What I have been doing is to try and add all new players to BD mass chat. There in they can seek assistance/guidance do networking find players to play with etc.
I said I don't believe so, which was my impression giving not seeing them for awhile. I didn't say it didn't.
oooh i was in that era lol
Thanks for the information Energy. I am glad Battledawn Academy does exist. It sounds like some new players would be welcome, since your others have graduated from the academy to regular teams and eras.
Just get the newbies to join ATOM. We play more often and develop our players much faster.
I played a really awesome BDA era last year (thats how i got my first ribbon) they were amazing a while back…Now some mentors are busy.
BDA ( in theory? ) is supposed to be an alliance that just trains players and then let's them do their own thing without trying to influence them to join this group of players or that group of players.
ATOM isn't that, lol. Cute though
This has been discussed and stressed upon a lot in the past that the newbie should only learn from the mentor from a neutral point and should be in a position to select players,allies and foes by himself and not just as same as their mentor.
The primary goal is to get one to play a good era. When you play a good one, you get noticed. This will get newer players more contacts plus better knowledge on the game. After that its their own path to walk.
Personal experience, right on :') Im a BDA student =D