that is the worst army build i've ever seen
hey, come on man, its the guys first ever era! It happens lol
and he already has a ribbon before finishing his "first ever era" ??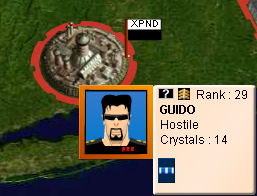 OH, wait…i dint know that…
who is guido? O.o is there no one in xpnd guiding him?
XPND has started their conquest of NOOB sending a total of 43 squads. NOOB doesnt look like they have responded yet
they making wall towards AA border D:
Guido BMW and a coupe of more guys of XPND, they look to have potential but need some guidance, if my team was not so busy in RL we would have killed them long long back, they need to be a taught a lot of things and it doesn't look there is anyone in their team who can take that role.
Guess knuckle dont pay much attention towards his mates. but flavoured is a nice player but i guess everyone in their team has ego and no one bothers to listen to each other.
see. the thing is, my team mates were unfortunately really busy in RL. I understand that there is a lot i need to learn, but lemme tell u this, we dint play at our full game either. Plus as far as i know, XPND were fighting since tick 10 or so, so they undoubtedly are worn out.
That is incorect. The only issue we had in our team was RenoKaye. He was the one with the inflated ego, and stupidity. He'd be online for one or 2 hours per day and thot that it was necessary to make moves. Tried to tame him, but he is a completely different breed of noobs, who dont wanna learn, even if u try to help out. No one even bothers to think, but dont u say any crap about KD. He has it really ruff, and has medical issues and work, which was rather sudden.
Lmfao buddy i know KD since you didnt even step into this game plus read my reply again, it clearly says "guess" dont know what term "guess" means for you so try to understand the statement first rather than hitting your keyboard hard next time and trust me no one gets pushed by some alliance who are literally half your size or get ld'ed sitting at front lines. better take more guidance from KD instead of misunderstanding messages here.
if u know KD, then whatever u "Guessed" shud never even have come up in ur mind. also, i re read my previous post, and nothing at all looked as "hard hit" as u claim it to be. most of the responses were really neutral and giving reason. Idk if u know him for longer or played with him before or anything, but he is by far the most honorable men who exist on BD. So, i just wanted to clear that i wont be taking any crap about him.
Also, lemme make something abundantly clear, one guy getting Locked down DOES NOT IMPLY i was locked. If u read MY posts clearly, then you'd know that people have real lives here. And if our teammate was offline 48+ ticks on the front lines, then u dont NEED a frikin LD to kill him xD.
and now i know i will need to listen to ur "Oh lol noobs sleeping on front lines " bs , and hell yeah that was noob. But we are all smart enuff to understand it wasnt done on purpose.
It came because whenever i messaged him he replied me like after 20 ticks (so you know if someone amongst you need guidance during war 20 ticks are more than enough for enemy to hit you up) plus trust me bro i've never seen an army like guido so that was another reason why i wrote that statement and yeah no doubt hes most honorable and trusted person on BD but that doesnt concern my statement. my statement targetted guido army only worst noobs will have a build like that during war.
And if you are gonna say only you have life and no one else then again bro i work 16-18hours a day yet i play actively

its a 1 ticker and no i never said you were "locked" i was referring to whole XPND not just you.
I see u mate

I completely agree that was a blunderous build, dint know what he had myself until the br came out

Fair point, i understand. I will freely admit that communication up until now was not great, but we have finally made most of our guys come onto FB messenger, and we are able to coordinate much better.
I know i am noob, but willing to learn

. missed opportunities and stuff, but yes has been getting better in here

Glad to know bro